24 janvier 2008
A little bit of architecture...
I don't know if it's a common "behavior", but rather often, when I discover drawings I like, I try to create something else in the same style. In general that lasts only the time for 2 or 3 drawings (And most of the time it's not even drawings, just drafts).
The 1st is rather close to the style that inspired me, and the others tends to look more like "my" style. (Do I have a style?)
So after discovering blog: Mattias Inks I suddently felt the urge to draw some buildings with lot of windows. And that was weird, because so far I have always disliked drawing buildings. But I have always liked drawing lots of details.
So here's the 1st one, where I mostly remembered the windows with small glass panes, and the kind of swirls on the buildings. (Maybe that can be seen as a fanart? oO)
Note: The perspective is completely skewed...
---
Je ne c'est pas si c'est une attitude courante, mais souvent quand je découvre des dessins qui me plaisent, j'essaye de recréer quelque chose dans le même style. En général ça dure juste le temps de 2 ou 3 dessins (et encore, la plupart du temps, c'est juste des brouillons). Le 1er est assez proche du style qui m'a inspirée, et les autres ont tendance à être plus "mon" style (Ai-je vraiment un style ?)
Donc après avoir découvert ce blog : Mattias Inks j'ai soudain eu envie de dessiner des bâtiments avec des tas de fenêtres. Et c'est plutôt étrange parce que jusqu'a présent je n'ai jamais aimé dessiner des bâtiments. Mais j'ai toujours aimé dessiner des tas de détails. Bon, voilà le 1er, où je me suis surtout rappelée des fenêtres à petits carreaux et des spirales sur les bâtiments. (On peut peut-être considérer ça comme un fanart ? oO)
Note : La perspective est complètement foireuse...
And a 2nd one, more like "my style" I think. The perspective is still skewed :] (And the little sign just say "Far").
Un 2ème, un peu plus dans "mon style" je pense. La perspective est toujours foireuse :]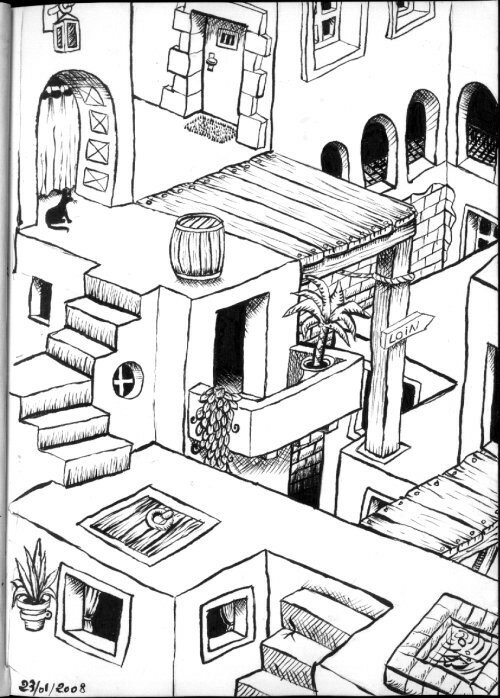 Both are more or less post-card size. // Les 2 sont aux format carte postale, en gros.

Commentaires
Poster un commentaire