A propos de l'auteur rore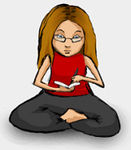 Quelques mots sur moi
Rore/Aurore - [ʁɔʁ]/[o.ʁɔʁ]
Adepte de Linux depuis ~2001, mais pas adepte du prosélytisme linuxien de certains.
Et gribouilleuse du dimanche (mais ça c'est depuis que je suis en âge de tenir un crayon :) )
principalement sous Gimp pour les dessins "normaux", Inkscape pour le vectoriel et Blender pour la 3D.

Linux enthousiast since ~2001, but not found of the "linux proselystism" of some people.
GIMP, Blender and Inkscape user.
aurore · d <
>> gmail · com