04 décembre 2008
Geek tattoo again (today: Ubuntu)
A Debian tattoo yesterday, an Ubuntu one today (because the guy that make me start the linux distro tattoos serie is ubuntu user). I went for a celtic tattoo style this time, I think it suited the subject. The wide flat areas were made to be filled with celtic knots ;).
And guess what: Knotwork in Inkscape is a PITA. I don't blame inkscape, I suppose it'll be the same problem with another software, but still ... ouch.
This time I realised it was much easier to add a "Based on the Ubuntu logo" message on the image rather than a too long and too weird disclaimer.
Encore un tatouage de geek (aujourd'hui : Ubuntu).
Un tatouage Debian hier, un Ubuntu aujourd'hui (parce que celui qui m'a fait commencer cette série de tatouages linux est utilisateur ubuntu). J'ai fait ça dans un style celtique, je pense que ça se marie assez bien avec le logo. Les grandes zones unies étaient faites pour être remplies avec des entrelacs celtiques :).
Et sinon, les entrelacs dans Inkscape, c'est la m****. Enfin, c'est pas tellement la faute d'inkscape, j'imagine que ça serait pareil avec un autre logiciel, mais bon .... Pfiou.
Et cette fois à la place d'un message trop long j'ai juste mis un "Basé sur le logo Ubuntu", c'est plus simple.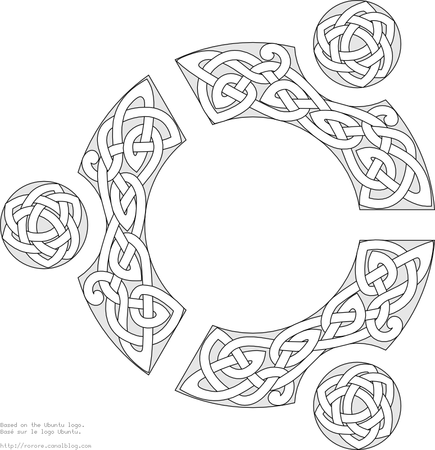 Cette création par Rore est mise à disposition selon les termes de la licence Creative Commons Paternité-Partage des Conditions Initiales à l'Identique 3.0 Unported.
As always: if someone like this enough to get it inked, it would be very nice to send me a photo, or even just a comment, but of course it's not compulsory. :)
Comme toujours: si jamais quelqu'un apprécie suffisament ce motif pour se le faire encrer, ça serait sympa de m'envoyer une photo, ou même juste un commentaire. Évidement ça n'est pas obligatoire. :)
Pour la peine j'en ai aussi fait un fond d'écran ... / I even did a wallpaper with it ...