26 avril 2007
Inkscape Quick Tip : Rotation / Overlap
A kind of mini inkscape tutorial for those who didn't noticed yet that the center of rotation can be moved :)
(To get the rotation arrows, click twice on the object with the selection tool.)
Step 4: If you move/rotate an object after duplicating it (ctrl+D), you can "stamp" the object at several places by pressing several times the space bar and moving the object without releasing the mouse button.
Actually, I'm just having fun trying to do illustrated tutorial with no words at all. (But for that one I think I still need to explain a bit the step4 because my drawing isn't really obvious ... darn )
Don't forget "A Guide To Inkscape" if you are looking for a complete inkscape tutorial.
Une sorte de mini tutoriel inkscape pour ceux qui ne se sont pas rendu compte que le centre d'une rotation pouvait être déplacé :)
(Pour avoir les flèches de rotation, cliquez 2 fois sur l'objet avec l'outil de sélection.)
Étape 4 : Si vous déplacez/tournez un objet après l'avoir dupliqué (ctrl+D), vous pouvez "tamponner" l'objet à plusieurs endroits en appuyant sur plusieurs fois sur Espace et en bougeant la souris, tout en gardant son bouton appuyé.
En fait, je m'amuse à faire des tutos illustrés, sans le moindre mot. (Mais là j'ai dû expliquer un peu l'étape 4 car mon dessin ne me paraissait pas évident ... zut)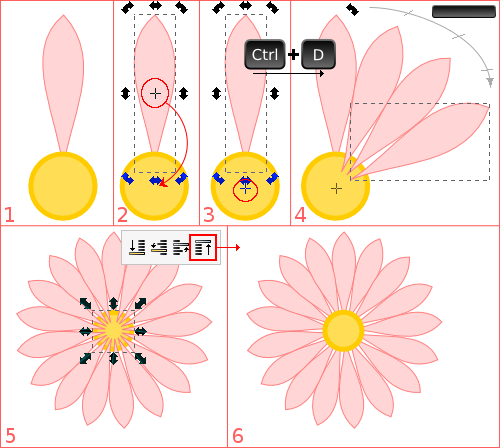 ---
This is more or less the follow up of the flower tuto. The overlaping is done simply here by cutting a part of the object with Path > Difference (Ctrl -).
And of course there's more than one way to do this effect :)

C'est plus ou moins la suite du mini-tuto fleur, cette fois sur les effets de superposition d'objets / chevauchement d'objets. Ici on réalise ça simplement en coupant un bout de l'objet avec Chemin > Différence (Ctrl -).
Bien sûr, il y a plus d'une façon de réaliser cet effet. :)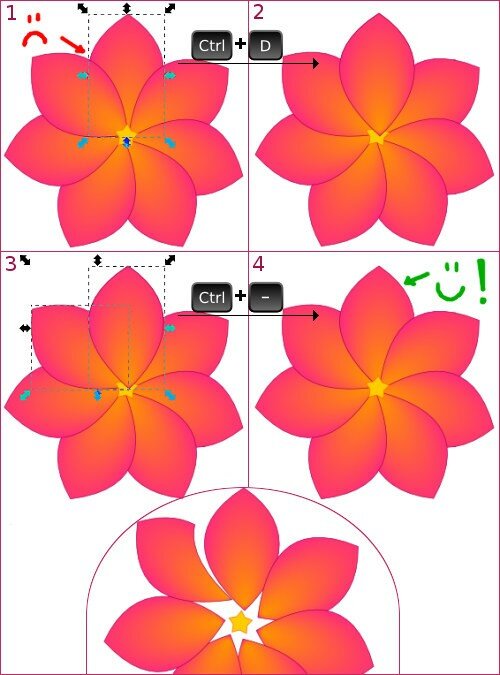 Commentaires
Poster un commentaire